Do something different on your Sunday off. Board a real three-master and sail away! In other words, a sailing trip to Pampus! Isn't that a nice and original idea? Via daguitPagina.nl you can now order your voucher with a 33% discount. You can already order your voucher for 33.95 instead of 51.00. That will easily save you 17.05 per voucher.
Also click here to order your vouchers for your Sailing Trip to Pampus.
Sailing trip to Pampus:
During the entire summer season 2020, sailing to Pampus will take place every Sunday. With the unique and historic three-master Sanne Sofia you choose the open sea. You get on in Muiden. The entire sailing arrangement takes about 6 hours.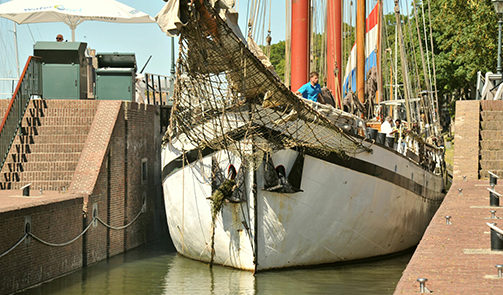 Sanne Sofia:
The Sanne Sofia is a historic sailing ship that was built in 1886. Sailing with this unique ship is a true experience. Experience for yourself her beautiful character, with extraordinary features. Can you sail and would you like to participate? Be welcome and roll up your sleeves. From hoisting the sails to being a helmsman. If you have no sailing experience, the crew will be happy to teach you. If you prefer to passively enjoy the tour, that's fine too. In short, sailing with this ship is a true and wonderful adventure. A day of sailing on the Sanne Sofia is like being away for a whole week. And you will remember it fondly for a long time to come.
What is included in your Sailing Trip to Pampus:
In addition to your voucher, your sailing trip to Pampus includes a cup of coffee or tea with cake when you sign on board the ship. At noon, lunch is served, which consists of soup, 2 sandwiches and a croquette. A snack is served in the afternoon. You can park your car near the boarding place and it is free.
If you also want to visit the renovated Pampus Pavilion 1874 on Fort Island Pampus, this is possible at an additional cost of 12.50.
What you need to know:
You can park your car for free near the pick-up point. This package is not suitable for people in wheelchairs. Suitable for people with a walker or walking stick. The elderly are the first to board.
Also click here to order your vouchers for your Sailing Trip to Pampus.
What others looked at:
Other visitors to DagjeuitPagina.nl looked at or were also interested in Sailing Holidays in our own country, Rondvaart IJsselmeer with a three-master and 3 or 4 days Sailing Holidays in Friesland .
Book your tickets for Sailing trip to Pampus: Advantage Voucher 33.95